Coronavirus Lockdown:
26 Graphic Design Resources to Engage Kids
Whether you're a parent who's been asked to work from home amid Covid-19 pandemic or a parent that has always been at home, the presence of kids 24/7 around you can not only disrupt your routine but may also make it difficult to concentrate on the work that you have been asked to perform remotely.
If your kids' school is providing them with online classes, that's a few hours of respite during which you can take it easy but if no such system has been put in place by your child's school, what can you do to keep them productively engaged while also getting some time for yourself (or your work)?
In this article, we are going to share 26 of the most fantastic and productive graphic design resources that will keep the kids engaged when you can't go out due the coronavirus pandemic (or otherwise). These will help them learn something new, enable them to develop a new hobby or learn how to become a graphic designer as a future career choice.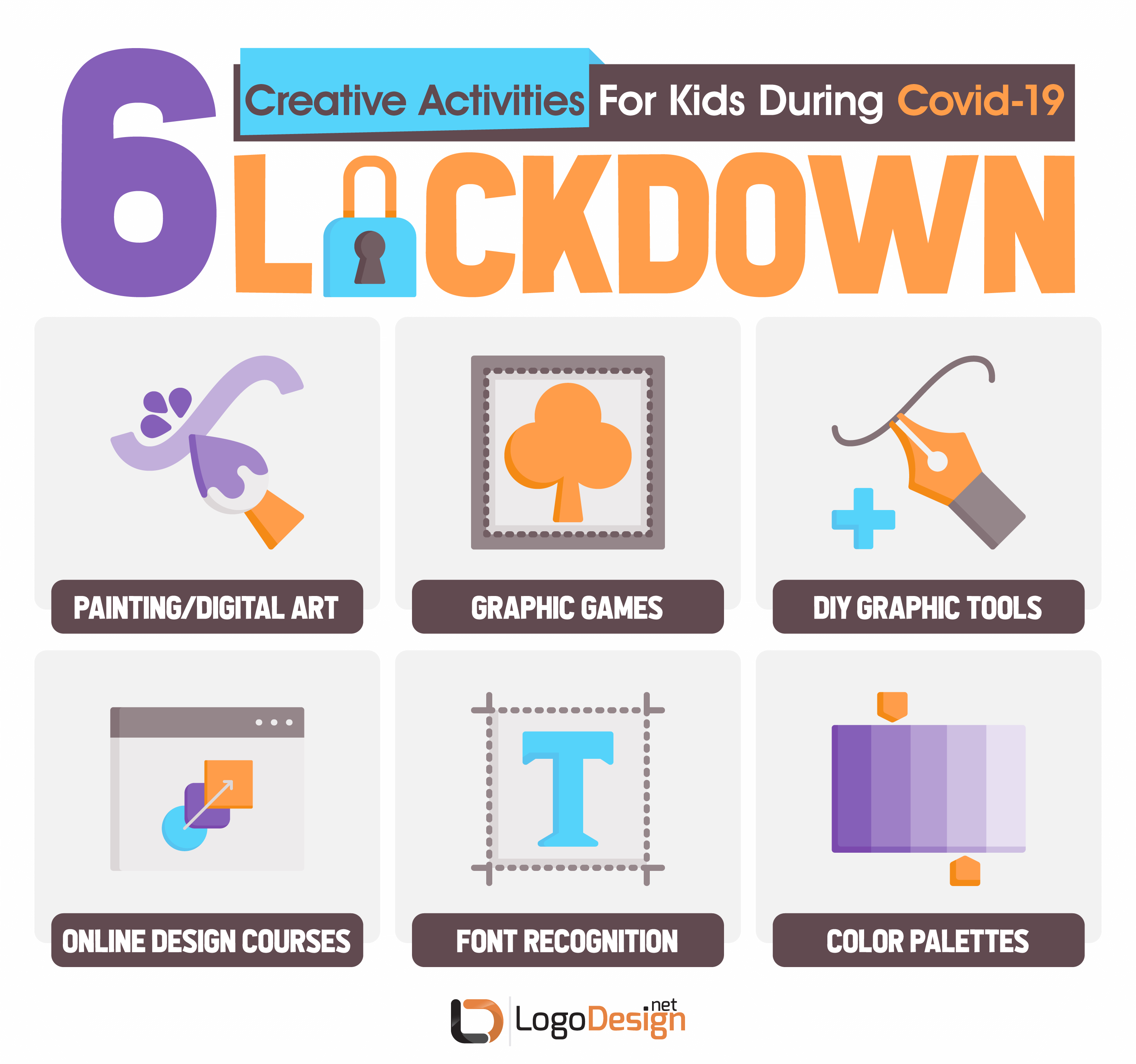 Painting / Digital
Art
Every early indication of artistic talent starts from an interest in colors and paints. If your little ones are showing a similar inclination, the following tools are great to give them a head-start. Some of these tools will be more suitable for younger audience like toddlers and preschoolers, while others are aimed at older kids or even some younger ones who show an exceptional talent for graphic design.
It has a suite full of features that helps kids test their drawing and painting skills on a somewhat higher level. It comes with built in vector tools, customizable paint brushes, and tons of great features that further expand your painting capabilities.
A stepping stone towards more advanced (and pricier) Photoshop, Gimp offers superior image manipulation tools, ability to create UI mockups, and lets you create original artwork, too.
It is a painting app with hundreds of high-quality paint brushes, gradient tools, layer effects, and some of the industry-best shaping tools. It can be used both online and downloaded as computer program.
Remember the MS Paint of your childhood? This is the next-level version of it. It is sleeker, stacked with more tools, with refined features, and allows you to create 2D or 3D masterpieces

TuxPaint is very much a child's first guide to digital drawing and painting. It is aimed at children from ages 3 to 12 and works as the early canvas upon which your children can practice their talent and design instinct.
It is an image and video editing tool. It's loaded with beautiful and professionally designed templates that you can manipulate, work on, and showcase on your social media. You can curate fonts, create your custom color palettes, and explore the library containing millions of premium designs.
Graphic Design
Tools/Apps
Children of all ages enjoy the creativity, inventiveness, and imagination that come with drawing, coloring, or creating something new and that's all graphic design is all about. The graphic design tools we have listed here are all professional-level image manipulation software, vector graphic creators, UI mockup and wireframe creation tools, and other programs that help your kids learn graphic design at a higher level.
Needless to say, these are suitable for children who already work with graphic design and can handle and understand the vernacular and design terms these tools work with.
is an AI-powered photo editing software that allows you to manipulate your image with extreme precision and professional expertise. It works on a multitude of image formats from PSD to PNG and from Jpeg to SVG and everything in between.
BeFunky is a great fun source to learn how to retouch photos, make picture collages, edit existing images, and even experiment with creating brand new graphic designs.
Aimed at professional designers, GravitDesigner not only offers advanced photo editing features but also lets you design vector graphics through its precision vector tools that let you give incredible form to your work through points, shapes, and lines.
Vectr lets aspiring graphic designers dabble into creating vector graphics. To learn the basics of vectors and how they are different from other graphic design formats, Vectr is a great starting point.
It offers your kids a wide range of graphic design tools from drawing to color fills and from object manipulation and path operations. It's free and open-source vector design software and keeps evolving continuously.
It is a cross-platform free photo processing system that to transform your raw images into professionally crafted pictures. The software is designed to teach you how to turn images captured on digital cameras to look like professionally-photographed.
Graphic Design
Games
Graphic design games are a great way to learn while having lots of fun in the process. The games we have listed here will help you learn how to code, ace the Photoshop's Pen tool, differentiate between fonts, and learn how well you know your pixels.
Sometimes, when children get bored of learning through serious work, these games can step in and let them take the edge off.
Flexbox Froggy is a pretty interesting and highly interactive game that'll teach you how to code through the help of a few frogs and their lilypads.
The Bezier Game is designed to help you master the Bezier curves, in other words, Photoshop's Pen tool to enable you to get your curves and shapes right every time.
You are asked to draw a shape that's exactly the amount of pixels you're given above. The closer you are to the given pixels, the lower the amount of the difference and hence a better score.
This super fun game is an arcade-style puzzle game that encourages you to 'kill' the letters in Serif fonts making as fewer mistakes as possible. The game lets you choose from a Junior designer level to the Senior level, with a middle-weight level in between.
This game lets you pick the correct font for every letter displayed. It's a free, web-based, no-nonsense game with a simple layout and easy goals.
It's annoying and therefore a perfect fun game to get you in the mood to kill off Comic Sans, the font style that is the bane of existence for most designers.
Online Design
Courses
In addition to graphic design tools and games, you also have online courses option to take advantage of. Take a look at some of the free courses the following resources are offering and see if you can find any that your child will be interested in.
Udemy, Skillshare, and Coursera, all three are some of the most prestigious and well-known resources offering design courses from renowned names.
The design education offered by these platforms consists of courses on Photoshop, Illustrator, Logo Design, Digital Painting, Character Drawing, and Figure Drawing among others. You get free as well as for-paid courses (Udemy offers a money-back guarantee).
Udemy offers a ton of free valuable courses on graphic design. You can schedule your own classes and learn on your own terms. The student reviews are fantastic. You'll find classes on a variety of topics from logo design to digital drawings and Adobe platforms, too.
With Skillshare, get access to tons of graphic design lectures and courses completely free. The courses are offered by professionals and come with degrees and certifications, too.
The course offers visual design as well as graphic design knowledge. You will understand the fundamentals of design, learn the vernacular, and get yourself familiar with concepts and practice of textures, use of lines, and shapes and forms, etc.
Font and Type
Tools
Typography is an important area of graphic design to understand and master. You'll hardly find a piece of graphic design that doesn't include typography in one form or another. The major portion of graphic design consists of logo designing which is practically incomplete without type and fonts. But take any other graphic design asset too – posters, websites, illustrations – and you'll see that types make an integral part of it.
Through these tools, you can teach kids in a fun and easy way to recognize fonts, pair matching or opposing fonts, and how best to distribute space between characters in a given word.
In this web-based game, kids learn how to distribute space between letters so the text is most easily and pleasantly readable. Using the right and left arrow keys on your computer, move the letter sideways till you think you've achieved the perfect kerning.
Each letter is presented as a character, complete with a profile, and as a matchmaker, you have to decide with whom that character makes the perfect match. You can choose among the similar typefaces or go a bit bolder and match the opposites.
Coloring Tools
& Games
This is the list to take it slow. These fun games help the kids enjoy coloring and painting without the pressure of acing or mastering anything. But that's not to say these tools aren't educational. 'Coloring and Learn' and 'X-Rite Color Challenge' are especially designed to combine the education about importance of learning with some fun parts to help you and the kids take it easy.
This online game tests how well you can detect changes in hues of colors. Since the science and psychology of color are quite influential on how people associate meanings and feelings to colors, it is important to get your hues right.
You will not find an easier coloring game than this. It's perfect for toddlers and preschoolers, but to be honest, adults can have a little fun with it, too.
It is a fun learning app aimed at drawing and coloring. You can create new shapes to color or use the existing ones that are organized into categories. The kids can choose their own pencils, drawing, and colors and can start from scratch anytime they want.
Conclusion
So here you have 26 sure-fire ways not to go crazy while locked down at home and keep the kids entertained and engaged at the same time. Shout off in the comments which tool or game you and your kids are having the most fun and learning with.
Reviewed by: Zaheer Dodhia
CEO and Founder LogoDesign.net